BOWLS AND MOTORS ARE IN STOCK AND READY TO SHIP! WE SHIP INTERNATIONAL!
TWO PART ROTOR NOW AVAILABLE IN KIT FORM!
Upgrades available at a discount for all rotors and turnkey machines with exchange.
Retrofit rotors available for competetors machines.
Now shipping with new LARGER rotor. See New Rotor 2013 in the gallery for details!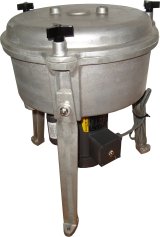 The Turnkey
Simple Centrifuge
Do you want to get up and running fast? The complete machine is the way. Cast aluminum construction. Pre-wired for 110v 60hz power. In stock an ready to ship.
Includes the two part rotor and feed cone. Uses the new taper mount.
Domestic version in-stock. 60 Hz only. Domestic only. Not for overseas. Baldor 1/3 HP 60Hz. Wired for 110V.
$1500 TURNKEY-US

Precision machined two part centrifuge rotor with feed cone assembly. Machined from solid billets 6061-T6 Aluminum for good chemical resistance and strength. Precision balanced for long trouble-free life. Runs quiet and smooth. Bowl ships with detailed construction and assembly notes to build a complete centrifuge. Designed for 5/8" staft with 7/16-20 thread. See diagram.

Industrial Baldor Motor. Single phase 110v or 220v. Available in 50/60Hz version for overseas use. Heavy duty bearings for long life. Capacitor start. Fan cooled. Precision matched to our centrifuge bowls. Overseas orders will ship 50/60Hz version.
Industrial Baldor Motor 3 Phase motor. Custom built, including double row angular contact upper bearing, cast iron end bells. Inverter ready. Include dual seals and vertical drain path. Suitable for US and Overseas! Requires 208 to 240V three phase power or VFD. Use VFD for variable speed. Based on our motor tests. Ideal for getting the full RPM overseas or running at higher RPM.