Welcome to SimpleCentrifuge.com, the internet's leading authority on simple, easy to construct, centrifuges. Our precision cnc machined centrifuge bowls are machined from solid billets of aluminum for good chemical resistance and strength. Precision balanced for a long trouble-free life. Runs quiet and smooth. Bowl ships with detailed construction and assembly notes to build a complete centrifuge.
New rotor design now shipping. This design is our best yet.
UPDATE: May 09 2013 started shipping newest rotor. See New Rotor 2013 in gallery for details!

UPDATE: January 24th 2014 We are shipping a new feed cone. See New Feed Cone 2014 in gallery for details!

UPDATE: November 29th 2021 Made a minor improvement to the feed cone, improving the outflow. See Updated Feed Cone 2021.

| | | | |
| --- | --- | --- | --- |
| | | | |
| Rendering showing the new feed cone. | No trantorque! Install and remove in seconds! | Cutaway showing the inside of the rotor. | Testing the rotor. |
Want to compare the original open rotor to a feed cone style?
| | |
| --- | --- |
| | New two part rotor with feed cone vs. the old open rotor using a 30% water and 70% oil mix at 30 gallons per hour. The results are clear. New rotor on the left, old rotor on the right. |
Do you have a Raw Power centrifuge?
Upgrades now available!

We've been hard at work in the shop and have scaled down our popular two part rotor to fit the smaller chassis.Get all the power you can out of your machine.
Features all the features of our domed top rotor, including quick taper mounting, and feed cone/horn. Holds over three times the material as the stock rotor. Upgrade today.
Play with the G Second Calculator to compare our machine to others.
BOWLS AND MOTORS ARE CURRENTLY IN STOCK AND READY TO SHIP!
TURNKEY MACHINE NOW SHIPPING WITH A NEW ROTOR!
NOW SHIPPING TURNKEY MACHINES! INTERNATIONAL VERSION NOW SHIPPING!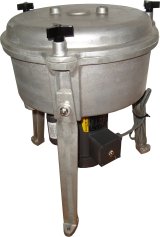 Order a complete turnkey machine or a kit.
We have been building centrifuges for over 10 years (see History page for a Visual History) This bowl design sets a new standard for simple centrifuges world wide. Safe, easy to maintain, and inexpensive to run, this is the skimpiest machine on the market. No need for 3-phase power or troublesome pumps. This centrifuge is gravity fed and uses standard household single phase power. We estimate that we have processed over 7500 gallons of waste oil, waste vegetable oil, bio-diesel, and hydraulic oil since building our first machine. We have saved tens of thousands of dollars by recycling waste products. The machine is simple enough anyone can run it. It makes us money 24 hours a day.
Please feel free to tour our site. We have a number of videos, images, FAQ and history to help you understand what a simple centrifuge can do for you. We are always working on new ideas and posting our latest findings online so check back often.

News:
2021-11-29 Uploaded photos of the latest light weight feed cone, using a peristolic pump, and example of cake formation from used motor oil.
2015-11-30 Uploaded a back log of photos to the gallery. Including skim tube updates, rotor fins, light weight finned feed tube, and hydraulic oil.
2014-09-16 After months of design changes we are making progress on the rotor fin design. Check it out here: Rotor Fins.
2014-01-24 We are shipping a new feed cone with vanes. It improved the infeed capacity along with improved stability with water. See New Feed Cone!
2014-01-01 Happy New Year 2014! Spent the day working on the skim tube prototype. Uploaded a video of it being used with WMO! www.youtube.com/watch?v=YWeiptNiPEM. You can read about the development progress here in the galley under Skim Tube.
2013-08-29 Added Paypal Bill Me Later banner to the ordering page. 6 months same as cash!
2013-05-05 Started shipping a new rotor that holds 3/4 of a gallon. See New Rotor 2013!
2011-10-13 Activated date stamps on the gallery photos, making it easier to identify old photos.
2011-09-22 Created a calculator to convert from the lab centrifuge to gph flow.
2011-01-18 Added G Second Calculator to compare centrifuge performance on the basis of retention time and g force. Very handy to compare different volume and speed machines.
2011-01-28 Upgrade rotor assembly available for Raw Power centrifuge. Increase your capacity and eliminate splash.
2010-12-18 I uploaded some photos of our latest rotor design we are now shipping. We have made a new feed cone which eliminates the tubes used on earlier models. We have also changed the mounting system, allowing the bowl to be removed without draining. Please see gallery for details.
2010-01-21 I uploaded some new images to the gallery, new 2 part rotor vs the original open bowl tests by fuelfarmer. Added some photos of tar removal after carbon and 2 micron filtering.
2009-12-07 It has been a busy year. Updated the gallery layout to make it more usable.
2009-08-15 We have shipped the our first two machines to the new mult-part rotor! We also have a feed cone that forces all the incoming material to the back wall.
2009-01-13 Happy New Year.
2008-11-27 HAPPY THANKSGIVING! Thank you to all our wonderful friends, family, and customers who have made this year super. Yes, I'm here working today and I'm thankful for the work. Thank you for your support and encouragement over the past couple years. May each of you have a safe and happy holiday.
2008-11-26 Launched our year end inventory reduction sale. See ordering page for details.
2008-10-01 Updated a bunch of pages on the web site to reflect the fact the complete machines are now available and shipping.
2008-09-02 International turnkey machines are now available! See the ordering page.
2008-07-05 Turnkey machines are available on the ordering page. Added a bunch of photos to the gallery.
2008-07-04 Shipped our first turnkey machine. Happy July 4th! Here's the historic photo.
2008-05-31 Algae tests are now documented in the gallery under Algae Recovery. It works great!
2008-05-27 Motors arrived from Baldor. We can finally start assembling the turn key units!
2008-03-10 Updated ordering page to include a single phase motor for use over seas with 50 Hz power!
2008-02-18 We're caught up on our rotor production. Updated the ordering page to list new motors.
2008-01-15 The factory rep spent a long cold day getting the new lathe ready. We should be ready to put the lathe under power tomorrow for testing and work-in.
2008-01-08 HAPPY NEW YEAR! Our new Mori Seiki DuraTurn lathe arrived today! Our production will be back online very soon. You can view the riggers delivering the machine in the "Our Shop" section in the gallery.
2007-09-26 Prototype machines S/N 0001 and 0002 have been powder coated. They will be shipping later this week.
2007-09-01 Added a construction step-by-step to the photo gallery for those who want to know what's required to build your own machine.
2007-08-17 We have made a LOT of progress on the turn-key prototype casting this week. All seals have been completed. We still need to complete the lid and thread the ports. With some luck the prototypes will be ready to be powder coated next week. We have been uploading our progress to the gallery. Enjoy!
2007-08-09 Uploaded another photo of the turn key proto-type and added a couple questions to the faq.
2007-08-02 I'm back from vacation. I uploaded a few more pictures to the gallery. Progress on the turn key machine is moving forward at full speed.
2007-06-21 Updated the gallery page. The gallery now includes a photo of the castings.
2007-05-29 Added an image of the cast outer housing and lid, fresh from the foundry. See gallery.
2007-05-17 Added another image to the gallery. Updated the history page with a visual time line of photos showing our proto-types and innovations that have never been seen before.
2007-05-10 Patterns are DONE! We will be taking the patterns to the foundry on Monday. We'll do a sample run and verify every thing fits then it's into production. We're very close. We posted a number of pattern images to the gallery page. Thanks for your continued support!
2007-05-04 Added photos of the casting pattern to the photo gallery. The patterns are coming along very nicely. We hope to have the patterns to the foundry next week for a sample run.
2007-04-26 Added photos of the fine machine that Tom G. built to the photo gallery. Tom used our motor and bowl combination along with a few items he stole from the kitchen. Good job Tom!
2007-03-30 Added corrosion questions of FAQ page. Added photos of casting pattern to the gallery
2007-03-21 Corrected spelling on several pages. Thanks, Paul.
2007-03-16 Added some new questions to the FAQ page.
2007-03-12 Add info to main page about turn-key machine. Added questions to contact page.
2007-02-21 Increased form size on contact page. Updated FAQ page..
2007-02-16 Uploaded how-to video. Added more questions to the FAQ. Added image to gallery.
2007-02-14 Upload new video to gallery of centrifuge being used to clean waste heating oil. Created separate page for videos. Added another image to the gallery. Added new intro to the main page.
2007-02-12 Added a contact form to site. Added a link to our videos on YouTube. Added question to the FAQ page.
2007-02-07 Updated FAQ page to include consumption information.
2007-02-04 Added image showing a complete machine with flow arrows to the gallery.
2007-02-03 Added a few items to the FAQ.
2007-01-31 Uploaded a few pictures to the gallery of mods we made while installing a Frybrid kit to our Mercedes-Benz 300D. Uploaded a new video of the centrifuge running waste vegetable oil from settling tanks to finished storage. Fixed the add to cart buttons on the ordering page.
2007-01-30 Modified machine bowl and machine to be self draining upon shutdown. Video of the modification has been uploaded to the gallery page.
2007-01-29 Uploaded a few more images to the image gallery.
2007-01-27 Uploaded instructions for a very simple "lab" centrifuge along with a video.
2007-01-23 Launched site